Introducing Autoblast
Your Automotive Media Blasting , Rustproofing and Sandblasting specialists in Auckland
We blast using a recycled grit mix that strips paint and removes rust from delicate automotive and industrial metals. Media blasting is the best foundation for a through automotive restoration. Don't cut corners or compromise, get it blasted. There are many reasons why your new car needs rustproofing, find out more
---
Our Team
Dave and his team have over 15 years of experience. We take pride in delivering the best care and service to your project – big or small. From the Chassis of a 1930's Rolls Royce to the wheels of a Hilux, you can be assured of the very best finish.
There's nothing more satisfying than taking delivery of a beat-up old classic covered in rust and peeling paint, blasting it to smooth white metal, and returning it to its owner gleaming in a new coat of epoxy. Brilliant. Dave Kirkham Autoblast, Owner
---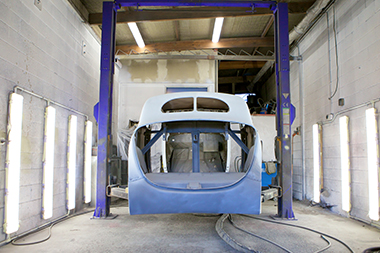 Based in Glenfield, Auckland, our booth can fit any object up to 9 meters in length and 3.3 meters in height. We blast campervans, caravans, classic cars, 4×4 and restoration parts. We have built a good reputation since 2004 for providing a quality finish and service. Blasted metal can be galvanised using arc-metal spray technology, and a finished with a variety of epoxy finishes to seal your vehicle or machinery. An optional cavity wax treatment can further weather-proof your project for years to come.